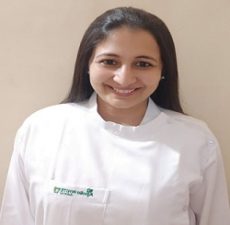 Dr. Shruti Jayasurya
BDS, MDS
9 Years Experience
Pediatric Dentistry/Pedodontist
Bengaluru, Koramangala Bengaluru, Bannerghatta Bengaluru, Basavangudi Bengaluru, JP Nagar
Mon - Sat : 09:00 AM to 08:00 PM
Book an Appointment

Doctor Info
About Dr. Shruti Jayasurya – Pediatric Dentistry, Pedodontist in Bannerghatta Road, Bangalore. Specializes in Laser Dentistry and Photobiomodulation
Dr. Shruti Jayasurya is specialized in pedodontics and preventive dentistry and has an experience of 10 years in the field. In addition she holds an advanced certification in laser dentistry and photobiomodulation and a Pediatric First aid certification from St. Johns Ambulance, London.
Her main interests and priority lies in prevention of dental diseases and to provide quality care to her patients. She looks to instill a positive dental experience and attitude in children.
Some of the treatment provided by her are dental prophylaxis, fluoride application, sealants placement, dental restorations, dental extractions, pediatric endodontics.
Throughout her career she has attended speciality conferences, PG conventions and CDE workshops and presented papers and posters at the same. She also has international publications in specialty journals.
Frequently Asked Questions
Where does Dr. Shruti Jayasurya practice?
Dr. Shruti Jayasurya practices at Apollo Dental Clinic, Bengaluru-JP Nagar
How can I take Dr. Shruti Jayasurya appointment?
You can take Dr. Shruti Jayasurya appointment by calling 1800-102-0288 or Click here to book appointment online or walk-in to Clinic.
What is Dr. Shruti Jayasurya specialised in?
Dr. Shruti Jayasurya specialises in Pediatric Dentistry/Pedodontist