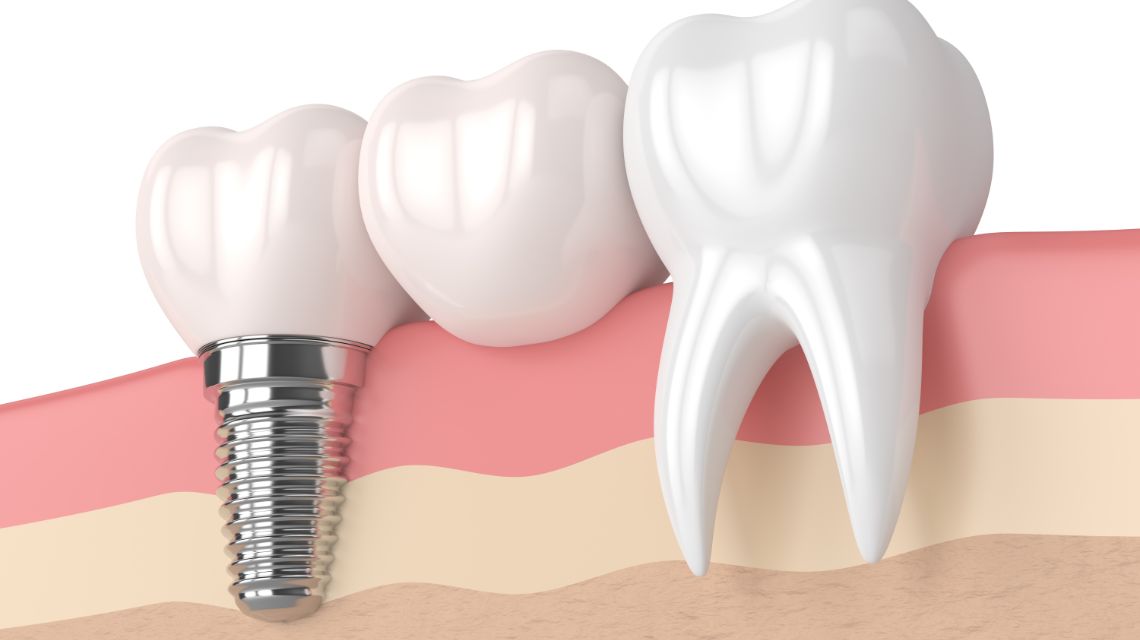 People with missing teeth often shy away from gatherings as they feel self-conscious about smiling or talking. They also face several problems like dental infections, inability to chew food properly, and may develop unhealthy eating habits leading to secondary health problems.
Dental implants help you get a complete restoration if you are missing teeth. If you want to consult with your dentist, an experienced periodontist, or the best dental surgeon near you, read on. Get introduced to all the necessary details on dental implants, their types, and how to find the best dental hospital in India
What are Dental Implants?
Dental implants are artificial, screw-like structures inserted into your jawbone that act as an anchor for the crown – an artificial tooth. Crowns are custom-made to fit the shape and size of your missing teeth and match the colour of your tooth. They look, feel, and function exactly like your natural teeth.
Should I get Dental Implants?
If you have missing or damaged teeth, you can get dental implants from the best dental clinic in India.
However, if you have any of the following conditions, you may not be fit for dental implants until your issues are resolved. The issues include:
Soft tissue or bone disease
Chronic illness
Any unmanageable metabolic disease
If you have any of these conditions and also have a tooth problem, contact a periodontist or the best dental doctor in India for a consultation.
Why is this Procedure Conducted?
Your dentist will give you dental implants if you have missing teeth which cannot be treated via dentures, bridges, or crowns. To replace your lost teeth and prevent future oral complications, you need dental implants from a dental specialist in India, especially an oral surgeon or a periodontist.
How is the procedure conducted?
You will first be administered pain medications, sedatives, or antibiotics (if needed). The dentist will then cut into your gums to expose the jawbone and drill a hole. The implant is then inserted and implanted in your jaw bone, followed by stitching the gums.
The entire procedure may take up to an hour or more, depending on the number of implants or bone grafting required.
What are the Different Types of Dental Implants?
Different dental implants are available with size options, coating, and connectors. Based on the process of placing the implants, they can be differentiated into two categories:
Endosteal (Endosseous) Implants
Commonly used, effective implants that are alternatives to bridge or removable dentures. These can be of three types: screw (threaded), cylinder (smooth), or bladed.
These implants can hold your dentures in place if you have insufficient bone height.
What are the Advantages of Dental Implants?
There are several advantages of dental implants:
Feels more natural and comfortable
No need to take out and clean every day
More success rate
Better chewing function
Lower chance of cavity development in nearby teeth
Lower chance of loss of sensitivity in nearby teeth
Are There any Risks to Dental Implants?
Implant surgeries are fairly simple. However, there are chances of a few complications:
Oral nerve damage
Implant displacement
Infection of the implant
Summary
Dental implants have a high success rate in helping you replace your missing teeth. Implants come with long-term benefits. Implants give you a fully functioning oral structure along with a beautiful smile. To get these benefits, you can contact a dental specialist near you. Find the best de , especially oral surgeons or periodontists, a
Request an appointment at Apollo Dental, India.
Call 18001020288 to book an appointment OR click on this link.
Frequently Asked Questions about Implantology
Implantology Doctors