Dental Tourism in India - Best Cities for Dental Tourism In India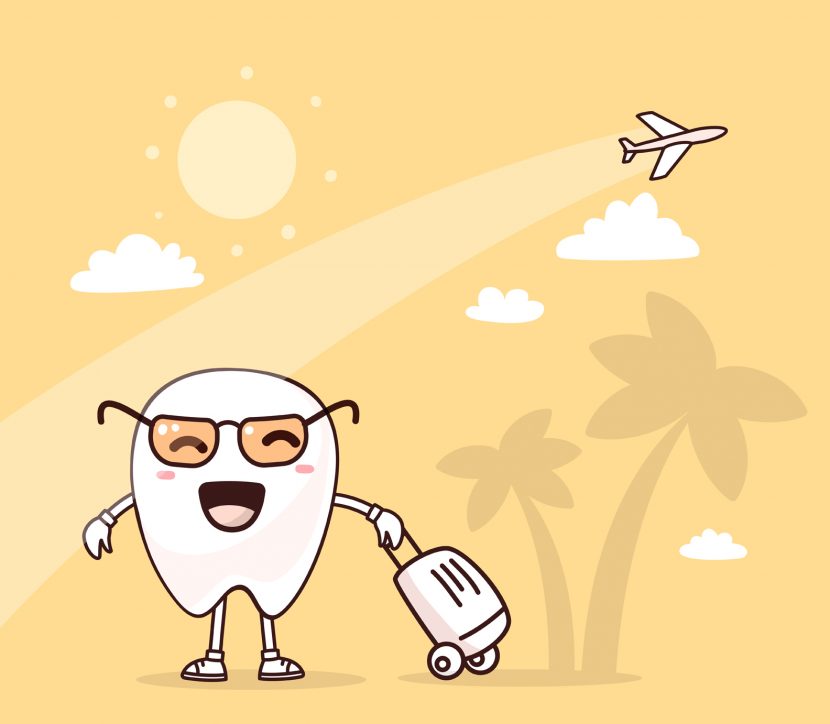 Today India is rated amongst the world's top destinations for Dental tourism. The reason being, Indian dental surgeons are highly qualified and compassionate. Dental Tourism in India enables to save on dental treatments while exploring India without compromising on the quality.
Top 5 Best Cities for Dental Tourism
India has a vast range of medical facilities. Dental care is a field where India excels. From temporary teeth to permanent teeth, from oral hygiene to dental implants India is one of the best places for dental treatment. Here are some Indian cities with the best dental treatment facilities.
NEW DELHI
India's capital city boasts of the best medical treatment Centres. Apollo Dental clinic is located in Apollo Hospitals Indraprastha, SaritaVihar. This clinic has the latest and most sophisticated equipment for precision diagnosis, treatment procedures like implants, dentures, braces including cosmetic corrections of the teeth. The experienced dental surgeons and implantologists, paediatric dentists in Apollo clinics have treated the most difficult cases and performed some of the most complex dental and oral surgeries successfully. This dental hospital in Delhi offers the best and most efficient services, especially for international patients. Implants, dentures, Geriatric care of teeth, and paediatric issues are a daily routine. Apart from medical attention New Delhi is a very good holiday location. It has a lot of history and heritage sites, multi-cultural cuisines from Kashmiri to southern-most areas like Kerela and Chettinad, and also global like Chinese and continental. Delhi is a shopper's paradise for an entire range from antiques to the most modern. It has everything to suit every pocket. A patient can enjoy the best of care and have a relaxed and enjoyable medical holiday.
MUMBAI
Mumbai is the financial capital of India. It is a cosmopolitan city comprising of different cultures. Everyone wants to become someone goes to Mumbai to try their luck. Mumbai is the seat of Bollywood and has something for everyone. Apollo Dental has three dental hospitals in Mumbai. These dental hospitals provide world-class dental services. Apollo dental hospital located in the main campus of Apollo Hospital in Navi Mumbai is dedicated to treat dental problems of international patients. Apollo Dental has all the latest facilities and amenities for patients. The Clinic has sophisticated dental diagnostic equipment and can perform the latest in dental surgeries. The dental equipment and dental material have a world-wide warranty. The dental patient and attenders are not house or hospital-bound. Mumbai is also a haven for patients who can take that time for an enjoyable R&R. From museums to temples, nature and hill stations to shopping and multi-cultural cuisine Mumbai has it all.
HYDERABAD
Hyderabad has many sobriquets- City of Pearls, IT hub, City of the Kohinoor diamond. The latest feather in the cap is the best destination for medical tourism. Apollo Hospitals is a pioneer and leader with five super speciality hospitals and many other speciality clinics in the city of Hyderabad providing specialised care in the fields of diabetes, dentistry, gynaecology, paediatrics, fertility and many more The Dental Clinic has state of the art equipment and an extensive panel of experienced and qualified doctors in every field of dentistry- from paediatric oral care to implants and corrective surgeries. Extensive care at affordable prices. Hyderabad has a lot to offer by way of leisure. The main identity of Hyderabad is the Charminar. One can spend a lot of time there watching the hustle and bustle of city life and the distinctive culture of that area. The Salar Jung Museum, the Nizam's palaces, are well worth a visit. Hyderabadi cuisine especially the biryani cannot be missed. Hyderabad is the hub for traditional jewellery, arts and crafts, pearls. It is a great shopping destination
BANGALURU
Earlier known as Bangalore this city is home to many giants of the IT industry and a plethora of white-collar workers. Apollo Dental has 15 dental hospitals in Bengaluru offering a variety of services ranging from simple procedures like teeth cleaning and whitening to complex oral surgeries and rehabilitation. Apollo Dental hospitals in Bengaluru are equipped with sophisticated dental equipment and the latest technology in dental care. Our dental hospital on Bannerghatta Road is located in the Apollo hospital campus and is dedicated to providing dental care for international patients Bangalore is surrounded by nature reserves and heritage sites. One can shop, experience south Indian cuisine from different areas or take an 'R&R' in the nearby nature reserves
CHENNAI
Chennai is the heritage capital of South India. It still has an old world charm and traditions. The city also hosts the best in medical care. Apollo Dental has more than 21 dental hospitals in Chennai which provide precision dental treatments in every department of dentistry like laser, cosmetic, and microscopic dentistry among others. Apollo Dental Chennai is a Center of Excellence for Oral and Maxillofacial Care providing state-of-the-art dental services with the use of latest technology and digital imaging. We provide world-class dental care at affordable prices without any compromises with special emphasis on hygiene, disinfection and sterilization. Our dental hospitals in Greams Road and T. Nagar are equipped with all the latest facilities and are dedicated to providing services for international patients who come to India for dental tourism. All medical staff is well versed with English. Chennai is home to beautiful beaches, churches and temples. The heritage city of Pondicherry is very near and wonderful for a retreat, typical Chettinal cuisine, traditional jewellery, arts and crafts. Not to forget the best of authentic and traditional silk sarees. India is THE PLACE for tourism - be it medical or R&R or both. The best of services and cost-effective treatments are available in the North, South East and West of India.