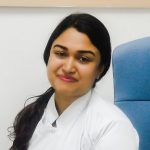 Dr. Reshmi
BDS, MDS
1 Years Experience
Endodontics
Pune, Wanowrie
9:00 AM to 6:30 PM
93 % Patient Satisfaction Score
Book an Appointment

Doctor Info
About Dr. Reshmi Varghese – Dental Surgeon in Aundh, Nigdi, Swargate, Viman Nagar & Wanowrie, Pune. She specializes in Root Canal Treatment, Laser Root Canal Treatment, & Crowns
Dr. Reshmi Varghese is a dental surgeon in Pune. She practices in Apollo Dental in Aundh, Nigdi, Swargate, Viman Nagar, and Wanowrie braches. She is an endodontist and provides treatments like root canal therapy, placement of crowns, and endodontic therapy. She specializes in laser root canal treatment and crowns.
Endodontics is a department of dentistry that deals with dental conditions that arise inside a tooth. These include the dental pulp, root canals, the dental nerves and blood vessels inside a tooth.
Specialized skills
Laser Root Canal Treatment
Reversible pulpitis
Irreversible pulpitis
Pulp necrosis
Pulp infections
Condensing Osteitis
Endodontic therapy
Root canal treatment
Qualification
BDS, Century Dental College, Poinachy
MDS (Endodontics & Conservative Dentistry), Bharati Vidyapeeth Dental College and Hospital, Pune
Frequently Asked Questions
Where does Dr. Reshmi practice?
Dr. Reshmi practices at Apollo Dental Clinic, Pune-Wanowrie
How can I take Dr. Reshmi appointment?
You can take Dr. Reshmi appointment by calling 1800-102-0288 or Click here to book appointment online or walk-in to Clinic.
What is Dr. Reshmi specialised in?
Dr. Reshmi specialises in Endodontics