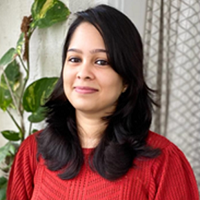 Dr. Geethu Pradeep
B.D.S & M.D.S
10 Years Experience
Conservative Dentistry And Endodontics
Hyderabad, Nallagandla
Mon to Fri : 05:00 PM to 7:30 PM
91 % Patient Satisfaction Score
Book an Appointment

Doctor Info
Dynamic and innovative endodontist with a proven track record of helping patients to achieve optimal oral health and overcome complex mouth and tooth obstacles. Committed to achieving the highest level of patient satisfaction.
Memberships/Certifications
Indian dental association
Indian association of conservative dentistry and Endodontics.
Kerala dental council
Frequently Asked Questions
Where does Dr. Geethu Pradeep practice?
Dr. Geethu Pradeep practices at Apollo Dental Clinic, Hyderabad-Nallagandla
How can I take Dr. Geethu Pradeep appointment?
You can take Dr. Geethu Pradeep appointment by calling 1800-102-0288 or Click here to book appointment online or walk-in to Clinic.
What is Dr. Geethu Pradeep specialised in?
Dr. Geethu Pradeep specialises in Conservative Dentistry And Endodontics