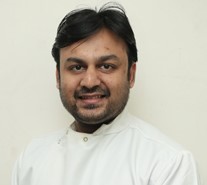 Dr. Preetham Jain
B.D.S, M.D.S
Dentist - 8 Years Experience
Endodontics
Chennai, Anna Nagar Chennai, Ashok Nagar Chennai, Ayanambakkam Chennai, First Med
Mon to Sat: 9:00 AM to 1:00 PM
90 % Patient Satisfaction Score
Book an Appointment
Call: 1800-102-0288

About Dr. Preetham Jain
About Dr. Preetham Jain – Dental Surgeon in Anna Nagar, Chennai. Specializes in Laser Root Canal Treatment, Root Canal Treatment, and Crowns
Preetham Jain is a dental surgeon in Chennai. He practices in Apollo Dental clinic in Anna Nagar branch. He is an experienced endodontist and provides treatment for various dental problems that arise in the insides of a tooth. He specializes in root canal treatment, crowns, and endodontic surgery.
Endodontics is a subdivision of dentistry that involves providing treatment for diseases of the dental pulp, the root canal, and the blood vessels and nerves that are contained inside a tooth. The objective of endodontics is to preserve natural teeth.
Specialized skills
Laser Root Canal Treatment
Reversible pulpitis
Irreversible pulpitis
Pulp necrosis
Pulp infections
Condensing Osteitis
Endodontic therapy
Root canal treatment
Qualification
BDS, Sri Ramachandra Dental College and Hospital, Chennai
MDS (Endodontics & Conservative Dentistry), Meenakshi Ammal Dental College and Hospital, Chennai
Frequently Asked Questions
Where does Dr. Preetham Jain practice?
Dr. Preetham Jain practices at Apollo Dental Clinic, Chennai-First Med
How can I take Dr. Preetham Jain appointment?
You can take Dr. Preetham Jain appointment by calling 1800-102-0288 or Click here to book appointment online or walk-in to Clinic.
What is Dr. Preetham Jain specialised in?
Dr. Preetham Jain specialises in Endodontics